Roswell Daily Record du 08/07/1947
Date :
08 Juillet 1947.
Un scan du journal ici et une traduction: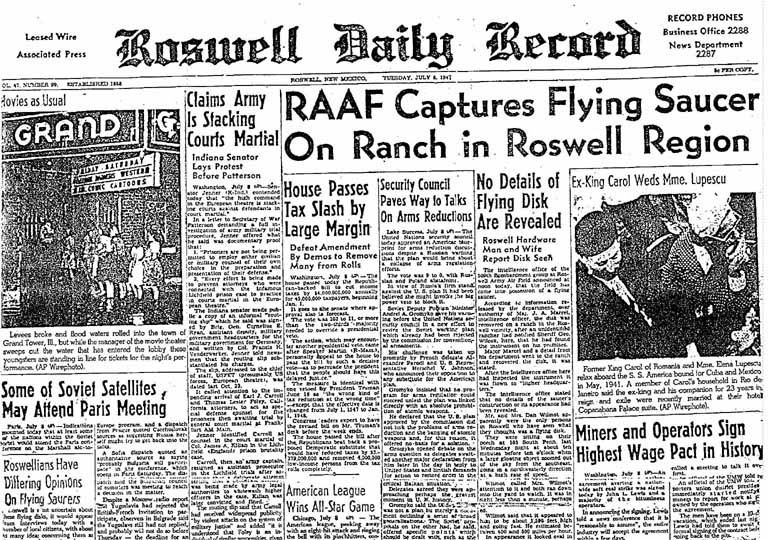 Je n'ai pas pu trouvé un scan lisible de ce journal, j'ai donc me me résoudre à utiliser les articles mis en ligne sur différents sites du Web.
The intelligence office of the 509th Bombardment group at Roswell Army Air Field announced at noon today, that the field has come into possession of a flying saucer.
Le bureau de renseignement du 509eme groupe de bombardement situé à la base militaire aerienne de Roswell, a annoncé ce midi que la base était rentré en possession d'une soucoupe volante
.

According to information released by the department, over authority of Maj. J. A. Marcel, intelligence officer, the disk was recovered on a ranch in the Roswell vicinity, after an unidentified rancher had notified Sheriff Geo. Wilcox, here, that he had found the instrument on his premises.
Selon l'annonce faite par ce département, sous la responsabilité du Major J.A. Marcel, officier de renseignement, le disque à été recupéré dans un ranch des environs de Roswell, après que un fermier/rancher non identifié aie prévenu le Shériff Geo. Wilcox, de Roswell, qu'il avait trouvé l'appareil (trad. discutable) dans sa propriété
Major Marcel and a detail from his department went to the ranch and recovered the disk, it was stated.
Il a été déclaré que le major Marcel et un détachement de son département se sont rendu au ranch et ont récupéré le disque.
After the intelligence officer here had inspected the instrument it was flown to higher headquarters.
Après que l'officier de renseignement eu inspecté l'appareil, ce dernier a été emporté par voie aérienne vers des quartiers généraux de plus haut niveau.

The intelligence office stated that no details of the saucer's construction or its appearance had been revealed.
Le bureau de renseignement a déclaré que aucuns détails sur la construction ou l'apparence de la Soucoupe n'avaient été révélés.
Mr. and Mrs. Dan Wilmot apparently were the only persons in Roswell who seen what they thought was a flying disk.
Mr and Mrs Dan Wilmot ont été apparemment les seuls personnes de Roswell ayant vu ce qu'ils pensent être un disque volant.

They were sitting on their porch at 105 South Penn. last Wednesday night at about ten o'clock when a large glowing object zoomed out of the sky from the southeast, going in a northwesterly direction at a high rate of speed.
Ils étaient assis sous leur porche au 105 South Penn, Mercredi soir dernier vers 22.00, quand un large objet brillant a surgi du ciel Sud Est, filant dans une direction Nord Ouest, à une grande vitesse.
Wilmot called Mrs. Wilmot's attention to it and both ran down into the yard to watch. It was in sight less then a minute, perhaps 40 or 50 seconds, Wilmot estimated.
Mr Wilmot a attiré l'attention de Mme Wilmot et tout deux ont couru dans le jardin pour regarder. IL a été visible moins d'une minute, Mr WIlmot a estimé peut être 40 ou 50 secondes.
Wilmot said that it appeared to him to be about 1,500 feet high and going fast. He estimated between 400 and 500 miles per hour.
Mr Wilmot que l'objet lui a paru être environ a 500 m d'altitude, et allant très vite. Il a estimé la vitesse entre 650 et 800 km/h
(nota: nous sommes en 1947, le mur du son sera franchi dans 3 mois, seuls les avions les plus rapides peuvent atteindre ces vitesses)
In appearance it looked oval in shape like two inverted saucers, faced mouth to mouth, or like two old type washbowls placed, together in the same fashion. The entire body glowed as though light were showing through from inside, though not like it would inside, though not like it would be if a light were merely underneath.
Il semblait d'une forme ovale, comme 2 soucoupes inversés, face à face, ou bien comme deux anciens lavabos placés l'un contre l'autre de la même maniere. (voir ici ou ici des anciens lavabo, on comprend mieux l'image). L'objet entier brillait comme si une lumière tres forte brillait depuis l'interieur, pas comme ça le ferait à l'interieur (ndt : ?), et pas non plus comme si il était éclairé depuis le dessous.

From where he stood Wilmot said that the object looked to be about 5 feet in size, and making allowance for the distance it was from town he figured that it must have been 15 to 20 feet in diameter, though this was just a guess.
Depuis l'endroit où il se tenait, Wilmot déclara que l'objet paraissait faire env. 1.5m de diamètre, mais que ce n'était qu'une supposition
Wilmot said that he heard no sound but that Mrs. Wilmot said she heard a swishing sound for a very short time.
Wilmot n'a pas entendu de son, mais Mme Wilmot a entendu un bruissement/chuintement pendant un très court moment.
The object came into view from the southeast and disappeared over the treetops in the general vicinity of six mile hill
.
L'objet est apparu depuis le SudEst, puis a disparu caché par la cime des arbres, au voisinage de Six Mile Hill.

Wilmot, who is one of the most respected and reliable citizens in town, kept the story to himself hoping that someone else would come out and tell about having seen one, but finally today decided that he would go ahead and tell about it. The announcement that the RAAF was in possession of one came only a few minutes after he decided to release the details of what he had seen.
Wilmot, un des plus respectés et fiable citoyen de la ville, a gardé cette histoire pour lui-même, en espérant que quelqu'un d'autre le fasse à sa place en décrivant ce qu'il a vu, mais finalement aujourd'hui a décidé de raconter son histoire. L'annonce que la RAAF était en possession d'une soucoupe est arrivé juste quelques minutes après qu'il aie décidé de tout raconter.
Un article du Sacramento Bee, également du 08/07/1947
Traduction: (version US depuis
ufoevidence.org
Army Reveals It Has Flying Disc Found On Ranch In Mew Mexico
Sacramento Bee July 8, 1947
ROSWELL (N.M.). July 8. (AP) --The army air forces here today announced a flying disc has been found on a ranch near Roswell and is in possession of the army. Lieutenant Warren Haught, public information officer of the Roswell Army AIr Field, announced the find had been made "sometime last week" and had been turned over to the air field through the cooperation of the sheriff's office.
Les forces de l'armée de l'air ont annoncé aujourd'hui qu'un disque volant avait été trouvé dans un ranch pres de Roswell, et en possession de l'armée. Le Lieutenant Warren Haught, Officier de communication de la Base de l'Armée de l'Air de Roswell, a annoncé que la découverte a été faite 'durant la semaine dernière', et a été ramené à la base aérienne avec l'aide du Bureau du Sherif.
Higher Headquarters
Quartiers Generaux haut placés


"It was inspected at the Roswell Army Air Field and subsequently loaned by Major Jesse A. Marcel of the 509th Bomb Group Intelligence office in Roswell to higher headquarters."
IL a été inspecté à la base aérienne de Roswell, et par la suite emprunté par le Major Jesse A. Marcel du bureau de renseignement du 509eme groupe de bombardement vers des QG haut placés.


The army gave no other details.

L'armée n'a pas donné plus de détails.


Haught's statement:
Declaration de Haught

"The many rumors regarding the flying discs became a reality yesterday when the intelligence office of the 509th (atomic) Bomb Group of the 8th Air Force, Roswell Army Air Field, was fortunate enough to gain possession of a disc through the cooperation of one of the ranchers and the sheriff's office of Chaves county.
Les nombreuses rumeurs relatant les disques volants est devenu réalité hier quand le Bureau de renseignement du 509eme groupe de bombardement (atomique) de la 8eme force aerienne a été suffisamment chanceux pour rentrer en possession d'un disque, grâce à la coopération de un des ranchers et du bureau du Sherif de Chaves county.



"The flying object landed on a ranch near Roswell sometime last week. Not having phone facilities, the rancher stored the disc until such time as he was able to contact the sheriff's office, who inturn notified Jesse A. Marcel, of the 509th Bomb Group intelligence office."

"L'objet volant a atterri dans une exploitation pres de Roswell, dans le courant de la semaine derniere. N'ayant pas le téléphone, l'exploitant a stocké le disque jusqu'à qu'il puisse contacter le bureau du Sheriff, qui à son tour en notifia Jesse A. Marcel du bureau de renseignement du 509ème groupe de bombardement.
Inspected at Roswell
-
Inspection à Roswell
"Action was immediately taken and the disc was picked up at the rancher's home. It was inspected at the Roswell Army Air Field, and subsequently loaned by Major Jesse Marcel to higher headquarters."
Immédiatement les actions ont été engagées, et le disque a été ramassé au domicile du Rancher. IL a été inspecté à la base de l'Armée de l'Air de Roswell.
The rancher's name and the location of his place was withheld.
Le nom du Rancher et l'emplacement du ranch n'ont pas été divulgués.
George Walsh of the radio station KSWS which provided first news of the announcement said only Major Marcel, Colonel W. H. Blanchard, commanding officer at Roswell, and the rancher had seen the object here.
George Walsh, de la radio KSWS qui a diffusé les premères informations, a dit que seuls le Major Marcel, le Colonel W.H. Blanchard, officier commandant à Roswell, et le rancher, ont vu l'objet.
The sheriff, Walsh reported, upon receiving word from the rancher went immediately to the intelligence officer at Roswell Field.
Walsh a reporté qeu le sherif, dés qu'il reçu l'information du rancher, se tourna immédiatement vers l'office de renseignement à la base de Roswell.